Hi, I'm Regina. I live closer to Baton Rouge than NO, but I'm a sucker for animals so I'm here anyway. Currently we have three dogs and 18 cats, though the number of cats can change from day to day, seeing as the majority of them are outside cats and feral cats who wandered up for food and never left. We get all our animals spayed and neutered, even the feral ones, but we have neighbors who are the definition of irresponsible pet owners so we sometimes end up with litters of kittens here and there. Now I'm going to post about eleventy billion pictures of said animals, so

First, the dogs:



That's Charity, she's 12 year old dachshund mix who wandered up at a local church. She's very camera shy, I had to take this across the yard with a zoom lens. She had clearly been abused, she only let me pick her up because some kids were chasing her, and when we got her home she lived under the bed for nearly a month before she came out, and was still very hesitant around us for nearly a year. She still doesn't like sudden movements, and is very nervous around men.



This is Lucky, she's a 9 year old mutt. She looks just like her dad, who lived behind a local grocery store and was pretty much a community dog. Her mom was a lab mix, but you can't see any lab in her. She was the runt of the litter, but has more than made up for it despite her diet and exercise routine. (Which she despises, by the way. Every time she comes back inside, she huffs over to an air vent and lays there for an hour, staring at us like we've just tried to kill her.)



That's Nibbler, who just turned a year old. He's a lab/pit mix that I got from a man at work who was planning on dropping him off because he couldn't find a home for him. (Which may have just been a ploy because he knew I was an animal lover, but it worked either way.) Despite some behavioral problems, Nibbler is generally, and perhaps overly, happy and friendly.

Here are more Nibbler pictures, including puppy pictures because he was ever so adorable:



(He is often fascinated by his own reflection.)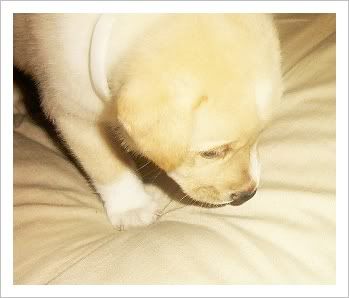 This is Bobert, he's about three years old and was the runt of one of the aforementioned litters or neighbor cats, and was born a very light silver color. Also, with no tail. He just has a teensy little nub of flesh, and has tail envy of the other cats. He's stayed pretty small up until a few months ago, when he suddenly bulked up very rapidly, for no apparent reason. Kitty steroids?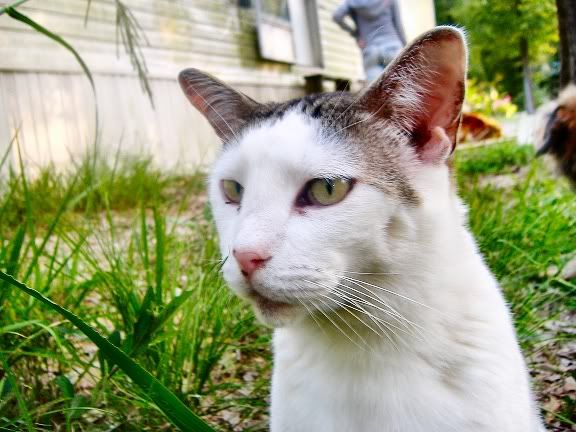 This is Bubba, who is around seven years old. We found him and his brother in an abandoned house down the road after we heard kittens crying when we walked by. There was a litter of seven, but Bubba and his brother were the only two alive, and his brother died shortly thereafter, sadly. Bubba was near death, and we had to nurse him back for almost two months before he started to get healthy enough to act like a real kitten. He's a (un)healthy 21lbs now, though, so I'd say he's recovered quite well. He still doesn't meow, though, the vet said he probably strained his vocal cords crying so much when he was younger.



This is Kittle, who is, near as we can tell, around four months old. She quite literally climbed up my pants leg one night in May when I walked outside to put some cat food down for the outside cats. She was very socialized, used to being fed, and knew how to use a litter box from the first night. So much so that we were convinced someone had lost her, but we put up flyers and asked around and no one came forward, so, *mine.* She's adorable and evil and has an uncanny ability to smell any kind of food from anywhere in the house, and I have about 90 pictures of her, so here are some highlights, because who doesn't like kittens?



(This is from her first night here, already showing her inconvenient fascination with keyboards.)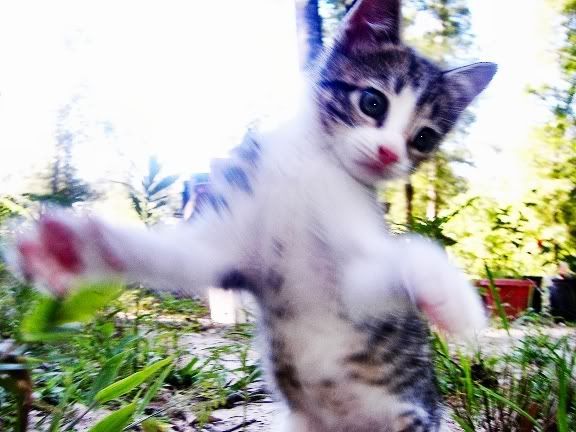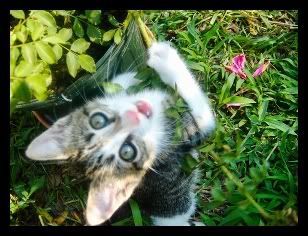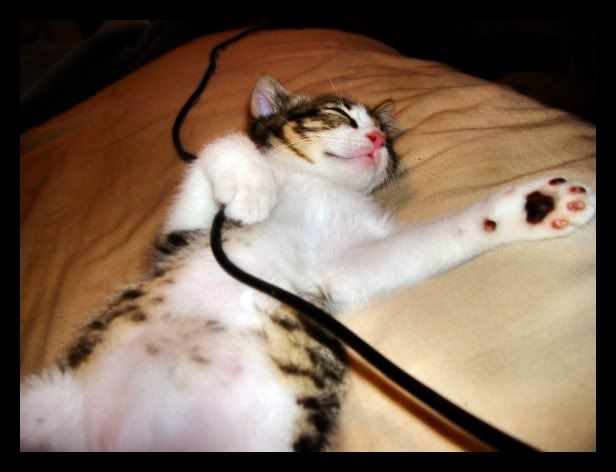 Bubba has been trying to become Kittle's new mommy since the first night she was here, but she was . . .well, rather resistant is a nice way to put it. Okay, she tried to beat the crap out of him, and then flounced off back to my bedroom. Either way, he finally achieved victory last week with a sneak attack, by bathing her while she slept. It was rather adorable, and as such, I took about twenty pictures:



(This was an earlier, unsuccessful attempt.)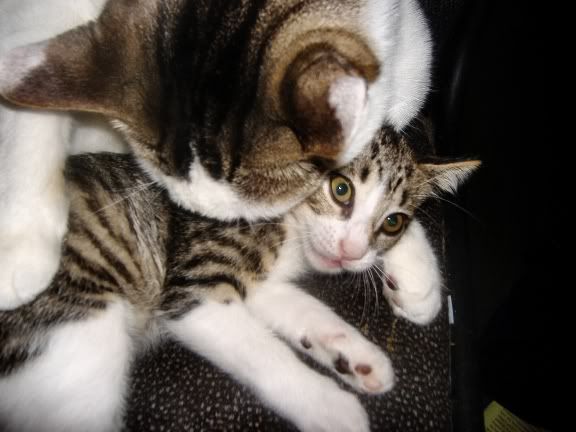 (She was not overly pleased when she woke up, but she's gotten used to it.)

To end the post that never ends, here are some pictures I happened to already have uploaded of some of the outside cats:



(Patches, who is feral and very people shy.)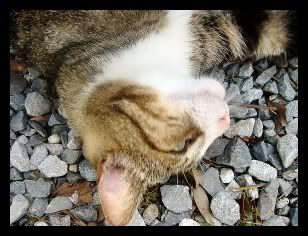 (Killer, a retired tomcat who now mostly just sleeps.)



(Moochie, who was an inside cat for years before falling in love with Patches and moving outside to stalk her. No, really. And she still refuses to come anywhere near him.)

Okay, done, I promise!


Lastly, if anyone has a Dogster or Catster account, feel free to friend any or all: Nibbler, Lucky, Charity, Bobert, Bubba, and Kittle.

I recommend signing up in any case, it's free and fun and a great place to find rescue dogs or find a home for your rescue dog.